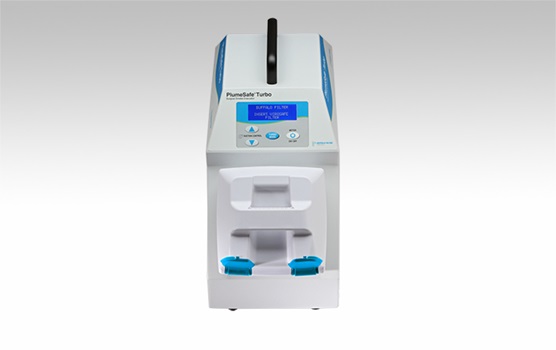 Turbo is a powerful portable surgical smoke evacuator designed with sufficient flow for the aesthetic market. It features turbo suction power, an interactive LCD display and filter tracking technology. It can easily be placed on a counter, shelf, floor or other location convenient to the operative area.
EZLink®, an automatic activation device, can be used to remotely turn the evacuator on and off, saving filter life. ViroSafe® Fluid Trap is designed to capture fluids to help maintain the integrity of the filtration system and assist with maintaining filter life.
Turbo Mode
Significantly increases the airflow to quickly remove smoke from the surgical site.
Interactive LCD Display
Puts information at your fingertips, multiple languages are included, adding to the unit's versatility.
Adjustable Flow Control
Suction setting can easily be adjusted in 10% increments.
Filter Tracking Technology
Automatically tracks and records filter life through a patented technology.
Quiet Operation
Addresses noise concerns.